From first turn over membrane i supported by a conveyor belt running at the same speed. Later there are a heather, the second film coupling the embossing and the sand application so to finish the surface there are other to ways as polyethylene film or fine sand. After these operations membrane turns over once again, returning to the initial direction toward the exit of the line.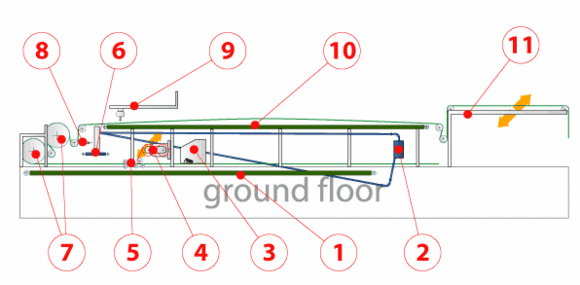 THIS GROUP CONSISTS:
Full Width Conveyor Belt for sand and slate excess, underneath the second turn over frame. All the dumped powder is conveyed to the recovery systems
Round Tubing Chain Conveyor to feed the sand
Gas burner as pre-heather for film coupling and sand application
Double Shaft Polythene film Rotary Unwinder
Film coupling and third embossing station
Sand Distribution Unit, provided with leveling hopper and conveyor belt
Nr 2 driven Turn Over Drums
Speed control roller (dancer)
Film roll hoist
Transfer Bridge from second turn over up to the central drive provided with a full width coveyor belt for sand recovery
Central Edge Guide tangential type, complete with four idle rollers and hydraulic servo-actuator controlled by the means of an optical sensor.